Materials Development and Adaptation
Eman El Difrawy is a CELTA ,TEFL ,TESOL certified teacher. She is a Teacher trainer and the founder of TEFL workshop and courses.
The more diverse we can make materials, the more chance there is of retaining learners' attention. Encouraging higher-level cognitive skills means adapting materials in such a way as to require students to predict, infer, make connections and visualize. The presenter will introduce practical ideas on how to adapt materials.
Covid Blueprint: Practical Strategies for Teachers and Students
The pandemic has been very challenging for teachers. However, it has been an extraordinary time for development. In this session, I will discuss the importance of professional development during the pandemic. Participants will learn about techniques to help them prepare their students for the new normal.
Hind Elyas is an English Instructor at Niagara College, Tayaran Aviation Academy in Saudi Arabia. She's the chair of the TESOL International PDPC and was selected as TESOL 2021 International Leadership Mentoring Program Award recipient and Convention Ambassador.
Lifting Poetry off the Page
Annie Altamirano, holds MA ELT & Applied Linguistics and is an author, teacher trainer, a member of TESOL-SPAIN from Salamanca, Spain
Poetry can be used as a means to build empathy and understanding. In this session, I will present three poems by Carol Ann Duffy, Benjamin Zephaniah and Nicola Davies. I will show how to enable students to engage confidently with poetry while becoming aware of social issues.
Sustainable Education: Enhanced 'CLIL-ing': A Wake-up Call
The objective of this study is to introduce the idea of Sustainable Education through the implementation of a combination of teaching practices. Sustainability in education is the process of meeting our students' needs without compromising the quality of life of future generations. To that end CLIL enhanced with Question-Based-Learning and Virtual Reality will be presented
Maria Diavati is a Director of Studies at Diavati Foreign Language School. She has a BA, MA, and MBA and has over 25 years of teaching experience.
Sarah Smith & Claire Steele
Tokenism or Engagement? A New Model for Teacher Development
Sarah Smith  works in teacher training and development worldwide, and is co-founder of eltonix.
Claire Steele has worked in EFL/ESL as a teacher, trainer, manager and consultant worldwide. She is co-founder of eltonix.
How can schools more effectively engage teachers in ongoing professional development? We present three different CPD models and analyse them using Hart's 'Ladder of Participation' (1992) based on the degree of teacher participation, engagement and choice. We use teachers' voices to provide feedback on each and propose the most effective..
Feedback or Feedforward? How to Build Resilience – Empathy Through Feedback
Nowadays, it is quite common that our students are afraid of giving and receiving feedback. During this interactive talk we are going to reflect on and discuss what feedback, resilience and empathy are, how they are linked, and how constructive feedback looks like.
Tanya Livarda holds a BA and MA in TESOL, a DELTA and CELTA, and is an EFL Teacher/Oral Examiner. She lives in Thessaloniki, Greece.
Practicing Connections to Avoid the Twin Sins of Course Design
Heather Woodward has taught in China, Vietnam, and Japan before working at Rikkyo, a private university in Tokyo.
In this presentation, I outline Wiggins and McTighe's (2008) twin sins of course design and show how using Fries et al.'s (2020) practicing-connections hypothesis can help you avoid committing the twin sins of course design..
Zenovia Efstratios Michael
Assisting B2 Learners to Enhance Their Collocational Competence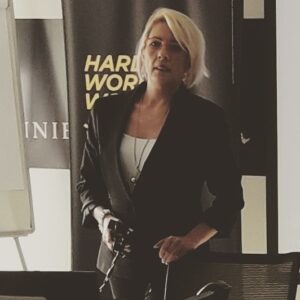 I will try to demonstrate a communicative way to help learners become aware of the use, meaning, and arbitrariness of lexical prefabricated items using the Task-Teach-Task method, in which students do the majority of the teaching. 
Eliza Raduca is a CELTA certified teacher and a speaker in Lexis, Romania, and at Tina Panagiotopoulous School in Schimatari, Greece.
The main aim of the workshop is to share as many ideas and apps that can help us interact better with our students in the online environment. We will also try to explore as many engaging activities meant to bring us all closer together online.
How to Make Students Love the Language They Learn
I'm going to share my experience of using coaching methods and my let's talk conversation cards, which are an innovative method that has proved to be efficient and much loved by both students and teachers. I will show some adaptable coaching tools and present the 'tricks' I have used in my cards.
Ania Nakonieczna-WIącek has been teaching kids, teenagers and adults for almost 18 years. She is a teacher trainer, examiner, academic tutor and coach. She is a co-founder and CEO of EIRU (a publishing house specialising in educational and coaching materials for teachers, psychologists and trainers). She is a mum and a wife, madly in love with Spain, jazz, yoga and meringue cakes.
The Leader in Me as Learner
Zafi Mandali is Director of studies, presenter, author, story teller, and teacher.
Teaching leadership habits to students instils values and lifelong skills, reinforces discipline and cooperation in class and benefits their academic achievement. Through worthwhile leadership roles, we involve students in the learning process and nurture the natural interests, talents and traits circulating in our classes.
Emergency Remote Language Teaching, a Big Challenge, a Great Opportunity
Through this workshop I will share ideas on how a teacher can effectively help students get engaged through active learning strategies and successfully adapt to online environments. I will show how we can design activities supporting learning objectives outside of the traditional classroom environment in online remote teaching circumstances.
Dr. Maria Diakou is Deputy Head of Cyprus Ministry of Education, Culture, Sports and Youth. She is a part-time lecturer at the University of Nicosia.
Zefy Antoniadou is a teacher at the British Council.
The whole-child approach to learning is a teaching philosophy that prioritizes all of the developmental and personal needs of students in addition to their academic achievements—in short, the whole child.
What I Have Learned About Supportive Trainer Talk
Rachel Tsateri is a freelance teacher and author of the TEFL Zone, from Athens Greece, based in Germany.
Supportive trainer talk plays a crucial role in teacher learning. In this presentation, I am going to look at the purpose of different types of trainer talk and provide examples from a recently recorded session in support of those types.
TESOL Communities of Practice and the Future
Georgios-Vlasios Kormpas is the Director of Teaching at Al Yamamah University in Saudi Arabia.
Much has been discussed over the past two years about the significance of TESOL Communities of practice during the pandemic, and their impact on PD. TESOL CoPs have provided ample opportunities and PD while maintaining standards during first-time challenges. This presentation will delve into insights and examples of such practices.
Teacher Well-Being – Teacher Well-What?
The aim of this presentation is to understand what well-being is, examine the factors that influence our well-being, and share some strategies and tips which will help us better cope with our everyday life, both personally and professionally.
Elena Kladi holds a BA, MA, MEd, TYLEC and is a Cambridge oral examiner, a Teacher, a Teacher Trainer and can be found on Instagram at mycupoftea_ching.
Dr. Maria Stathopoulou,
Dr. Phyllisienne Vassallo Gauci,
& Silvia Melo-Pfeifer
Cross-Linguistic Mediation and (Within) The METLA Project
Cross-Linguistic Mediation and (/Within) The METLA Project We present a set of guidelines useful for foreign language educators who want to include cross-linguistic mediation in their classrooms. A number of examples of mediation tasks for all proficiency levels combining different languages will also be presented.
Dr. Maria Stathopoulou is ECML Project Coordinator and an Adjunct Lecturer at the Hellenic Open University and the national Technical University of Athens, Greece.
Dr. Phyllisienne Vassallo Gauci is a Lecturer at the University of Malta.
Silvia Melo-Pfeifer is at the University of Hamburg, Germany.
Auction: A Consciousness Raising Activity to Assist Grammar Teaching
Eftychia Peponi is an EFL Teacher at Doukas School in Athens, Greece.
In this talk an exciting, fun class activity will be demonstrated. This activity is based on the Consciousness-raising approach, according to which the learning of grammar can be made more engaging. Learners are asked to work together to find/reform erroneous utterances, in order to practice various grammar structures.
The Case Method – A Flexible Tool in Online Blended Contexts
In this talk I will provide teachers and trainers of adults with a flexible and highly adaptable model for the use of the Case Method in the language classroom, and more specifically in online blended settings.
Vicky Margari is a freelance business English trainer offering online and blended courses to individuals and companies.
Zest is considered as one of the fundamental strengths for a positive psychology mindset. We frequently think that it comes out naturally but recent findings prove that it is a self driven and conscious process. In this presentation, we will review some key elements so as to generate zest in the classroom.
George Kokolas is a teacher trainer, an advanced neurolanguage coach and a positive psychology practitioner in education in Greece.
'A World of Emotions' Learning by Feeling While Doing Together
My presentation focuses on a unit suitable for teenagers (A2-B1 English level), based on Tomlinsons' ideas of "humanizing, localizing and personalizing materials", which deals with "human" material and invites students to reflect on themselves and on the other people. The main input is a short emotional video about kindness.
Tiziana Lorenzet is a freelance language teacher and researcher, who teaches English and Italian L2 in Belluno (Italy).
ACCESS CODE: Cyber Classroom/Pass-word: Wellbeing
The future is now, full of opportunities and concerns. When concerns outnumber opportunities then the feeling of classroom wellbeing is critically tested. How can this be reversed? Is this the end of stress-free classrooms? What can be done to provide the basis for a supportive environment towards cyber classroom wellbeing?
Chryssanthe Sotiriou is the Head of Department of Foreign Languages. She is a writer, teacher-trainer in Doukas School. She is from Athens,Greece
Translanguaging: Reconciling L1 and L2 in EFL Reading Classes
EFL specialists' attitudes towards the role of learners' mother tongue (L1) in second language (L2) acquisition have shifted enormously over the last years suggesting that L1 can have beneficial effects. Drawing from relevant literature, this presentation attempts to show why translanguaging pedagogy in reading classes can support and maximize comprehension.
Vasiliki Lismani is an EFL Teacher. She holds a MA in Special Education and a MA in TESOL.
Cognitive vs Non-cognitive Factors: The Case of Grit
Dr. Dimitris Maroulis Hora – Naxos.
Character Education and non-cogntive factors, among them Grit, seem to gain popularity among educationists and researchers. Both concepts seem to be promising perspectives for the future. The presentation describes these concepts and how possible it is to become future trends.
Is This a Forgotten Hand?: Cognitive Engagement and Online Teaching
Why did ''digital natives'' fail to reap the benefits of Online Learning Environments? What is missing to transform the consumers of digital culture into prosumers (consumers & producers)? This talk aims to examine the change in the cognitive engagement of learners in online learning environments and the role of educators.
Maria-Araxi Sachpazian is an EFL Teacher as well as a teacher trainer. She is a lecturer at City College and a Managing Director Input on Education at Thessaloniki
Iris-Lea Khoury Tsoukarakis
No Need to Fear Essay Writing Here!
Iris Lea Khoury Tsourakakis has been teaching all levels of English in Greece for 30 years and is a teacher at the British Council.
How can we help teenagers be the best they can be when faced with writing an essay? In this talk, we will look at the stages required and the techniques you can use to make your students competent and confident essay writers.
Innovative Leadership for Teacher Effectiveness in Teaching & Learning in ELT
The elements of leadership have transformed and transitioned during the pandemic. A good leader sets an example and as such, the perspective of leadership has changed greatly. This presentation will showcase the pre-requisites of an effective leader and how they impact teacher effectiveness in institutions. We will closely look into the aspects that promote the growth of healthy teacher education leadership in English Language Teaching.
Fatmah A Ali is the Vice-Director and President of KSAALT TESOL at Jeddah, Saudi Arabia
Evita Alexopoulou
&
Fay Samata
Critical Thinking: How Can Visual Literacy Intervention Enhance It?
This workshop is designed for the English language classroom teacher of both middle and upper school and aims to demonstrate how visual literacy can be exploited to enhance teenagers' critical thinking skills as well as to make them aware of global issues that shape their lives.
Evita Alexopoulos holds an MLitt in Education from University of Cambridge. She is an English teacher and the Chair of the English Department at Pierce ACG.
Fay Samata has a MEd in Communications, Education and Technology from University of Manchester and is an English Teacher at Pierce ACG.
Flipped Learning: Flipping the EFL Classroom
Flipped learning is an innovative and effective pedagogical approach for the modern EFL classroom, as it creates numerous opportunities for active engagement. Under the guidance of their teachers, students take ownership of their learning and gain a deeper, more experiential understanding of the language. This gives them the chance to enjoy creative and productive class time, accomplishing a more solid learning outcome.
Katerina Mantadaki is an Educator, an ELT Senior Educational Consultant and a Teacher Trainer for Express Publishing
Today's Creators Need Their Muses: Looking Back to Prepare for the Future
Suzanne Antonaros is Co-Director at EDUCATIONAL & TRAINING CONCEPTS. She is also a Language Teacher, an Educator and an Author in Athens Greece
How can the Nine Muses enhance our language teaching? They inspire in us a love of the language arts and encourage us to create experiences which involve the senses and develop our sense of aesthetics. Invite them into your class meetings to share Art and Beauty with your learners.
David Bradshaw & Sarah Ellis
Motivation and Effective Learning
In this webinar we will look at the concept of motivation and the vital role that it plays in effective language teaching and acquisition. We will offer tips and practical ways for teachers to build and increase learner motivation.
David Bradshaw is a Senior Assessment Services Manager for Spain and Portugal, Cambridge Assessment English (Madrid, Spain)
Sarah Ellis is a Senior Assessment Services Manager for Italy, Cambridge Assessment English (Bologna, Italy)
Enchanting Literature and Language Learning – Compiling a Portfolio in Hogwarts
Can students get a more realistic panorama of the cultural aspects of language, improve their language skills, think critically and develop their own ways of using films in language education? Can Platform 9 3/4 lead EFL learners to a new future for assessment and language learning? Yes, we can!
Fani Miniadou is an EFL Teacher in Greece (since 2004) and the UK (since 2014)
Teaching Grammar, While Virtually Travelling the World
Aphrodite Gkiouri is an English teacher in Public Primary Schools in Larissa, Greece.
Our senses allow us to enjoy our food, the sound of music, the beauty of a sunny day – in short, our lives! With the aid of the Internet, I realized that I can teach my students about the special gift of the senses, while teaching Grammar, even during the lockdown.
The often-overlooked activation stage of the lesson is of paramount importance to learning. For the future of ELT, we need to emphasize this stage to reflect best practices in our teaching. This presentation aims to familiarize participants with the significance of warm-up activities for both inclusive pedagogy and culturally responsive language teaching.
Liana Kyriakea holds an MA in TESOL and teaches English for Academic Purposes at Deree-The American College of Greece.
Shaping Learner Autonomy With Technology- Mediated Peer Feedback
Panagiota Tzanni is an EAP Lecturer at the University of Nottingham Ningbo China
In this practical workshop, I am going to show how technology-mediated peer feedback helps learners become more autonomous, critical towards their own knowledge gaps while developing their writing or presentation skills. Padlet and Eduflow are going to be two of the main web applications presented in this workshop, evaluating their advantages and disadvantages and how they can be integrated into the teaching and learning process.
Boost Your Career Through LinkedIn!
How should you search for a job? How can you generate leads and boost your sales? How about developing your personal branding and becoming a thought leader in your industry? You can connect with amazing professionals around the globe and even find experienced mentors that will boost your professional development.
Markos Korvesis is a Master NLP Career Coach & LinkedIn Trainer from Athens, Greece.
Lit on Cloud 9: (A)Synchronous Literature for Primary School Pupils
Dimitris Primalis holds a M.A. in Education and is the Primary and Kindergarten F.L. Coordinator at Doukas School in Athens, Greece
No time to teach literature in class? Too risky to borrow books from the library? Are your students "allergic" to literature books? This workshop focuses on how pupils can benefit from a combination of synchronous and asynchronous learning practices to explore literature. Samples from classwork and activities will be displayed.
The Natural Synergy of Technology and Tasks in Language Teaching
This theoretical presentation will focus on the merge of Task-based Language Teaching (TBLT) with technology. The objective will be to highlight the benefits of this educational approach with a focus on the development of the language learners' intercultural & pragmatic skills, and to present practical guidelines and examples.
Maria Tetradi is a translator and an EFL teacher in refugee education in Leros, Greece.
Adapting in the Future Neverland
How can students and teachers adapt to the changes this era brings about? Is it worth growing in this new static "Neverland"? In this workshop we are going to use multimedia stimuli and drama techniques to explore the issue of dealing with change and our reasoning behind decision making.
Valia Gkotsi holds a BA, MA and is a certified Drama and Theatre Pedagogue. She is, also, a IB English Teacher and Examiner for HAEF in Athens, Greece