Heather Woodward & Laura Padfield
Helping Students Discuss Human Rights Issues
Heather Woodward is an instructor at Rikkyo University in Tokyo, Japan
Laura Padfield is finishing her master's degree in Applied Linguistics at Nottingham University in England.
We present materials that teachers can use in their classrooms to help students discuss human rights issues. During the presentation, we explain how to use the materials to help students develop empathy, increase intercultural awareness, find ways to compromise, and apply these skills in everyday situations.
Valia Gkotsi & Ioanna Georgakopoulou
Being a Tru(E)-Man in the Post-COVID Era
Valia Gkotsi MA, BA, Cert., Drama and Theatre Pedagogue/ IB English Teacher and Examiner, HAEF, Athens, Greece.
Ioanna Georgakopoulou MA, BA, Drama and Theatre Pedagogue/ Head of Academic Learning Centre, AMC College, Greece
Where does our right to privacy start and how can we discuss this with our students in order to make them think and prepare themselves for the "new normal"? Using multimedia stimuli and drama techniques, we are going to explore this issue in a workshop that adapts to today's reality.
Education is a basic human right for all. Having an education helps people to access all of their other human rights. To me, right now, it IS all about the technology—the mechanics of how to teach remotely. But it's mainly about how we are going to win our students' hearts.
Aphroditi Gkiouri is an ELT teacher from Larissa, Greece.
Try-tomorrow Strategies for Starting a Human Rights Club
This presentation aims to explore practical strategies, resources and curricula that teachers can use to equip their students with knowledge of human rights and the skills to put these rights into practice.
Foni Korbi, MA in ELT, Teacher of English in Secondary Education, Greece
Liana Kyriakea & Dafni Kefala
English Language Teachers as Agents of Social Change
Liana Kyriakea holds an MA in TESOL (Deree) and she is an EAP instructor at the American College of Greece.
Dafni Kefala holds an MA in TESOL (Deree) and she is an EFL teacher, Athens, Greece.
Ever since language classrooms were acknowledged to reflect, reproduce and change the world, EFL teachers have become 'agents of change', imbued with personal and professional values. This presentation aims to familiarize participants with the evolution of values in language teaching and appraise our role as agents of social change.
Rejecting or Respecting? A Teacher's Call!
A fundamental right of students in any educational system is the right to be respected. Whether students have learning or behavioural difficulties or simply need additional help, they have the right to be treated fairly, with respect and receive support so they can learn. Acknowledging learners' specific needs is an essential skill in order to create a positive learning environment.
Katerina Mantadaki, Educator, EFL Teacher specialising in teaching English to students with Dyslexia and other SEN
Luke Prodromou & Vicky Sarantidou
From the Classroom to the 'Glassroom'
Luke Prodromou, Ph.D, freelance, Greece
Vasiliki Sarantidou, State School Teacher.
The imposition of online pedagogy on teachers and students raises important questions regarding the rights of students and educators to conduct lessons in a manner appropriate to the needs of learners and teachers alike. How do we meet students' needs from behind a mask and online, from 'behind the glass'?
Teaching Children's Rights the "CLIL WAY
Teaching Children's Rights the "CLIL WAY" is a professional hands-on workshop that draws attention to the violation of children's rights as seen in the fairy tale Hansel and Gretel. Participants will understand the rights explored, through engaging activities, and will suggest twists in the story so that children's rights are celebrated.
Alexandra Velle, MA Contemporary Studies, Newcastle University, EFL/CLIL Primary EFL teacher at a State School, Athens, Greece
Recasts: An Effective Feedback Practice in Class & CALL
Reflecting on research on oral corrective feedback, this talk will offer participants an updated map of the feedback landscape, addressing the enhancement of feedback practices in both classroom and ICT environments. Participants will revisit a number of significant factors which have accounted for the efficacy of the recast technique. 
Eftychia Peponi, EFL teacher, MA in Applied Linguistics at New York College, Athens, Greece
Translation and Language Teaching
This presentation aims at examining the similarities and differences between the language teacher and the translator. Most importantly, though, its purpose is to show how translation can be used in the language classroom if certain conditions are kept in mind.
Panagiota Frytzala is a freelance ESP/EAP and Translation Tutor, as well as an Official Translator.
The Phoenix Rises: Enhancing Employability with English Language Training
The right to work is a basic human right, yet the job landscape is being disrupted at an unprecedented rate. This workshop will explore how our learners can gain valuable skills in the English language classroom which will lead to personal fulfillment, personal development and employability.
Lia Kalianos, Business English Trainer, Deree – The American College of Greece
Using Literature in ELT: The Whys and Hows
My presentation will focus on the reasons why literary texts, in their broader sense, should be incorporated in an ELT syllabus and then will go on to show different ways literary texts can function as a vehicle for creativity.
Panos Paraskevopoulos, Teacher of English, Athens, Greece
Agapi Liapaki & Maria Peristeri
Kindergarten & English Language Teacher: The Meeting Point
Agapi Liapaki is a Kindergarten teacher and School Owner.She has worked in several school settings in Greece and abroad.
Maria Peristeri has been teaching English since 2019.She has also worked as a Teacher Assistant in a Multilingual School in Poland
Playing and learning. Is this where a Kindergarten and an English Language Teacher meet? Are there any common areas between them and their students? What's more important is not what we teach but how we touch their heart. Because teaching is a 'work of heart'. And this is our meeting pla(y)ce!
Mastering Motivation Mechanisms
For many years we have been trying to identify how to motivate students. Could it be that we need to, firstly, think of how to motivate "people" in general? The speaker will analyse recent views on human motivation and how we could apply them in an ELT class.
George Kokolas, Certified Advanced Neurolanguage Coach, Academic Director and Teacher Trainer, Express Publishing.
From the Eclectic Approach to the Post Method Condition
This presentation sets to describe the Eclectic approach and its features as well as the framework of Post Method Condition. Both the Eclectic Approach and especially the Post Method Condition signify teachers' autonomy and their potential to take important decisions about their own teaching practice.
Evmorfia Passa, teacher of English and Music in Greek public schools Phd candidate Democritus University of Thrace
Up-skilling and Reskilling for English Teachers
During the pandemic a lot of changes have happened in the professional development of teaching professionals where they were asked to up-skill or reskill in certain skills.  This research will discuss which were the most essential skills that teaching professionals had to up-skill or reskill.
Georgios Kormpas, Director TLDC, Riyadh, Kingdom of Saudi Arabia
Maria Makra & Penny Masoura
Promoting Young Adults' Rights via Literature
Maria Makra is the Head of  ELP at Metropolitan College (Peiraias Campus) and a has a 30 year-teaching experience
Dr. Penny Masoura is the Deputy Director (Academic) at Metropolitan College (Piraeus Campus)
The presentation will be about how literary texts can assist in the promotion of young adults' rights.
Little Humans' Rights and the Quest for Identity
What do we need to know in order to guide "Little Humans" in their search for identity? And what about teenagers? In this interactive talk we will discuss children's rights, the definition of identity and share ideas on how we can best prepare them for future success.
Dina Dobrou. Teacher, Teacher Trainer, Life Skills Trainer, British Council, Athens, Greece
If you have any questions from Dina's presentation, contact her at: dobroudina@gmail.com
Helping Learners Develop their Listening Skills Outside the EFL Classroom
Everyone has the right to education and EFL learners are no exception. What can we do to help them further develop their listening skills outside the classroom so that they become autonomous sooner and stand on their own feet? A presentation with fresh, attractive ideas and the rationale underlying the suggested options.
Paul Bouniol, EFL/ESL teacher for over 35 years, Teacher Trainer, LanguageCert Academic Consultant, Athens, Greece
Diversifying Your Syllabus: Being More Inclusive
While they help us structure our courses, published ELT materials can tacitly limit the representations of human diversity. This session will discuss the challenges a classroom teacher faces, and suggest opportunities and strategies for broadening the range of stories and identities our students can encounter in lessons and syllabi.
Chris Richards, Teacher Mentor, BRAYS English, Madrid, Spain
The ICT Argument in Favour of the Lexical Approach
The aim of this presentation is to identify a number of theoretical background arguments for the introduction of different types of computer software in the EFL classroom. The software types discussed are all available at least partially for free and require or manage vocabulary input of various forms.
George Drivas is the Director of Studies at the Department of Foreign Languages at Doukas School, in Athens Greece.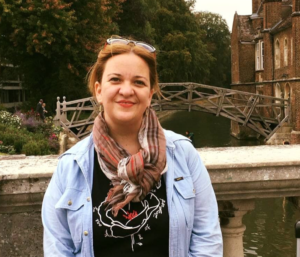 Humanity through the Eyes of the Storyteller
The workshop focuses on presenting various methods and activities that can help teachers use stories in the classroom and the online environment in order to teach the common values that are at the core of Human Rights. It will provide the participants with a variety of activities and suggest apps that focus on both story writing and storytelling.
Eliza Raduca, teacher, teacher trainer, Branch Director with Lexis Schools of Languages, BETA member, Bucharest Romania
Family Engagement in a Virtual World
Research shows that students with family support are more likely to achieve academic success. But how can we increase family engagement in education when in-person gatherings are limited?  We will look at a model for virtual family engagement.
Monica Baker is the President of NYS TESOL and an English as a New Language teacher in New York State.
Inspiring Curiosity and Global Citizenship
Participants will be introduced to different kinds of inquiry-based strategies to use with students of all levels to create and foster an inquiry-based classroom environment that invites students to wonder and stimulate critical thinking while also engaging in cross cultural awareness and understanding, leading to vocabulary acquisition and reading, writing and oral language skills.
Christina J. Rocha, Spanish and ESL Teacher at ACS Athens, Greece
Trisevgeni Liontou, Christina Giannikas, Dina Tsagari
ELT in the COVID-19 Era: Examining the Case of Greece
Trisevgeni Liontou, Assistant Professor, University of Athens, Greece
Christina Giannikas is a lecturer at the Cyprus University of Technology, Lemessol, Cyprus
Dina Tsagari is Professor at Oslo Metropolitan University, Norway
The global outbreak of COVID-19 has led to Emergency Remote Teaching in ELT. As part of a larger study, this presentation focuses on the field of primary and secondary ELT in Greece, and looks at teacher education through the lens of complex adaptive systems. Findings will shed light on the struggles faced in order to reshape teaching practices in a digital learning environment.
To my (Avatar) Heart's Content
Developing empathy, inspiration and social understanding through the Arts, Literature and Drama for language acquisition in Virtual Worlds
Helena Galani, MA ELT, RSA Diploma. TESOL/EAP tutor, accredited educator, assessor, materials designer & trainer in VWs
Human Rights through Drama and Theatre Techniques
Promoting Human Rights through the use of drama and theatre techniques. The use of Forum Theatre, Image Theatre, Document Theatre in English Teaching lessons.
Maria Polychrou, English Teacher, School of Multiple Intelligences, Thessaloniki, Greece
Learners' Assessment in ELT: Art or Human Right?
The place of assessment seems controversial.  Assessment feels separated from our course design and many ask that it be banned to make way for continuous performance evaluation. This session aims to examine the place of assessment and discuss its connection to the material used, while looking at some common oversights.
Maria-Araxi Sachpazian, Lecturer CITY College, Managing Director Input on Education, Thessaloniki, Greece
Linguistic Human Rights in a Post Brexit EU
Brexit creates the conditions for new socio linguistic paradigms within the EU. This presentation explores Euro English and English as a Lingua Franca, as possible new paradigms and the effects they will have on linguistic human rights. It examines the possibilities for changes in the status of standard English and the challenges to the concept of native speakerism.
Katerina Gerantoni, after teaching ESL in London  EFL in Athens, currently working as an examiner and doing a masters in TESOL at Deree.
Student Success Agency: Self-Advocacy Skills for SpLDs
This presentation discusses the importance of supporting students with specific learning differences in taking ownership of their learning and lives. Emphasis is placed on teaching strategies that empower students in understanding, asserting and communicating their needs and rights, problem-solving, setting goals, engaging in active reflection and building resilience.
Tyna Constantopoulou, EFL Special Education Teacher, Inclusion Diffusion, Kalamata, Greece
How to Support an Ideal Learning Environment
An overview of language coaching tools that view learning holistically and partnership by creating an ideal learning environment. Clarifying what language coaching is, then introducing ideas for reflective, respectful activities that address issues language practitioners are facing in turbulent times.
Gabriella Kovács, Co-founder, ILCA, Hungary
Fantastically GREAT WOMEN who Made a Difference
How did these women become so fantastically amazing and great? They achieved amazing things by following their hearts, talents and dreams. Yet, they did not set out to be thought of as "great". They dared to be different! Some couldn't resist a crazy adventure, or three.
Stefania Ballotto, Professor, Lecturer, Teacher Trainer, University of Udine, Italy, Pilgrims, UK
The story of "The Town of Words" is about the characters which live in this town. Not only will we meet these inhabitants but learn about their habits, their behaviour, the roles they like to play, their connections and the friends they choose. We will learn their secrets.
Zafi Mandali, Teacher of English, Director of Studies, presenter, published author, M.A. in Applied Linguistics, with a soft point in storytelling and literature. 
Experiences and Emotions: The Metadata of Communication
With  Colwyn Trevarthen's Theory of Innate Intersubjectivity in mind, in this presentation we will try to emphasise the importance of finding meaning in anything through experiences, literature, stories, art and formulate emotions in a constantly busy educational world. As humans, we are made for cooperative creativity and communication and we learn words to define its purposes, not vice versa.
Natasa Manitsa, Media & Communication Manager, Teacher, Podcaster, Athens, Greece
WTF? The Question to Change any Student Behaviour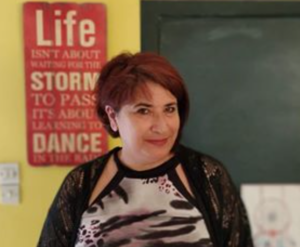 Inattentiveness, disrespect and  attention seeking are just some of the behaviours teachers' nightmares are made of. In this presentation, we will explore effective techniques to eliminate unwanted behaviours once and for all and reinforce desired ones. It all starts with the one fundamental question: What's The Function?
Stella Floras, Teacher, Trainer, Life & Education Coach
Using Videos as Springboards for Pair and Group work
This workshop will provide participants with examples of techniques for using videos to set up pair and group work activities for students of all ages. A large variety of methods will be demonstrated, from role plays and info gap, to interviews and question tasks. Join me for some fun!
Jasmina Sazdovska, College Professor, visiting lecturer at Eötvös Loránd University, Budapest
Reinforcing the Right to Be Heard
The role of Literature in the learner's exposure to the concept of Human Rights.  An insight into how Literature facilitates free expression and promotes the right to be heard. Literature, not only helps learners develop language skills and integrate them, but also inspires active, conscious individuals.
Adda Roumbou, Adda Roumbou, BA, English Language/Literature, Athens University, MPhil, Education, Bolton University, UK, Teacher/School Owner
Zefi Antoniadou is a teacher at the British Council Athens specialising in the teaching of 6-9 year-olds.
Cliff Parry is the Academic Manager of the British Council in Greece.
Zefi Antoniadou & Cliff Parry
Lessons from Olympism for the Language Classroom
Pierre de Coubertin, the founder of the modern Olympic Movement, believed in the harmonious and well-balanced development of the body, personality and mind. The aim of this session is to promote Olympism and Olympic ideals and demonstrate their application in the language classroom.
Sophia Christina Andrioti
Integrating Students with Dyslexia into the Classroom
It is a fact that all students should be included in the learning process, regardless of their learning profile. However, a large number of students are excluded due to the lack of appropriate learning environment. This presentation aims to discuss all the changes that should be done to equally integrate students with dyslexia.
Sophia Christina Andrioti, educator, Chalkida, Greece
Speak Truth to Power is  a global initiative, sharing the stories of human rights defenders around the world. There is a set of digital resources, designed to educate, engage and inspire the next generation of human rights defenders. The project aims at 'Life Skills'  development.  Examples  will be  presented.
Chryssanthe Sotiriou, High School EFL Coordinator, presenter, writer, teacher trainer, Doukas School, Athens, Greece
Students' Multicultural  Identity in the EAP Discourse
Being called to practice our profession in a globally rich academic community where people of different nationalities  intersect  daily to gain the benefits and rewards of education, the current presentation shall seek to explore strategies whereby contemporary practitioners can meaningfully engage culturally diverse  students in the EAP process  and reinforce their learning identity.
Fotini Apostolopoulou, Adjunct Professor in EAP at the American College of Greece, currently undertaking a blended MSt, Cambridge
Poetry and music are a staple in teachers' diet. Their use is often limited though to gap fill or comprehension tasks. This workshop aims to illustrate how different types of poetic expression can be utilized to raise students' awareness of human rights and actively engage them in the learning process.
Maria Theologidou, EFL teacher, teacher trainer, subtitler, oral examiner, former Vice Chair of TESOL MTH, Thessaloniki, Greece
Human Rights through Picture Books in the ELT Classroom
I aim to suggest ways in which Picture Books can be used in the ELT Classroom to develop students' language skills, but at the same time, help them develop empathy and raise their awareness of Human Rights. I plan to read out some Picture Books, invite the audience to think about how these books can be used in the ELT classroom and finally share activities that worked well with my own students.
Maria Stefanidou, Teacher of English for more than 10 years, based in Athens, Greece
Building Digital Learning Communities and Keeping them Engaged
Even more so now in today's world, schools have seen that using digital tools to support their learners has had a positive effect on them. We will share our findings on how using various tools has affected our young learners and how it keeps them engaged and connected outside of the classroom.
Mike Kenteris, Teacher, School Owner and Researcher.
Danny Singh, Teacher, Teacher Trainer, Author, Freelance, Rome, Italy
Raise Up! Project: Diversity and Representation in ELT
We live in a world with a plurality of identities, genders, ethnicities, body
shapes, etc, and our learners most certainly reflect that. What about our teaching and materials? Do they reflect that diversity? The aim of this talk is to discuss why and how teachers should consider bringing more diversity to their lessons, making their classroom a safe space to all learners.
Ilá Coimbra, DELTA M1 and 2 and CELTA holder. Brazilian English teacher and teacher trainer based in Munich, Germany.
The Poetic Philosophy of Loneliness in Teaching
A workshop based on the notion of philosophy in combination with poetry and how those two help us deal with loneliness as teachers and students.
Vasiliki Mandalou, BA.Philosophy and Literature teacher. Msc Mental Health S.E.N, TESOL Greece & CyTEA member.
Lessons Learnt During the Lockdowns
Having to switch from the physical classroom to the digital one overnight, owing to the  measures taken during the first wave of the pandemic, the presenter was forced to face a number of challenges in order to be able to fulfill her learners' right to continuous unimpeded education as well as her personnel's right to work.The lessons learnt in the process of facing those challenges, will be discussed
Matina Katseli, BA  English Language & Literature,Kapodistrian  University of Athens, School Owner, DoS, CELTA Holder.
Dynamic Assessment – A Framework for Student Engagement
Participants in this workshop will engage in a brief discussion on assessment of and for learning, participate in activities exemplifying the elements of Mediated Learning Experience, critique classroom techniques aiming at assessing the Learner's skills, knowledge and learning potential, and draw conclusions on the applicability of Dynamic Assessment techniques in their own teaching context.
Caterina Skiniotou, Education Specialist, Athens, Greece
Value of Volunteerism for FL Teaching Professionals
This talk,  which attempts a brief discussion of the parallels between paid professional work and  invaluable experience acquired through volunteerism,  language teaching competences and the importance of sound administration of human resources in any educational program, intends to encourage teachers to add volunteering to their plans for professional development.
Suzanne  Antonaros, language teacher, teacher trainer, EDUCATIONAL & TRAINING CONCEPTS, Athens, Greece