Saturday 11:15-12:00
6th Auditorium
Applied Theatre, Adolescent English Learners, and the Performance of Literacy
Using a Jack London short story as an anchor text, the participatory workshop blends applied theatre with literacy development to lead participants through a series of improvisational strategies for meaning-making. Special attention is given to how applied theatre might be leveraged across grade levels, genres. and text formats.
Keywords: Adolescents, Reading, Applied Theatre
Spencer Salas, Ph.D., is a Professor at The University of North Carolina at Charlotte
Saturday 11:15-12:00
Room 603
Learner Autonomy through Collaboration: Realities, Challenges and the Best
Mr. Muhammad is a Lecturer of English in the Department of English Langauge at Dhofar University, Salalah, Oman since 2013
This recent study reflects on a combined approach which involves effective use of technology, strategies and resources reported by both EFL learners and teachers to foster learner autonomy at tertiary level in Oman. The researcher has analyzed those reflections and practices and has proposed a collaborative model of learner autonomy.
Keywords: Learner autonomy, collaborative approach, best practices, learner and teacher scaffolding, autonomy strategies
Saturday 11:15-12:00
Room 606
Using Gamification to Gamify your School: Design, Plan and Execute
Hands-on practical solutions to gamifying your classroom and or school. Presenting our designs, ideas and results of a year-long attempt using gamification as a medium of keeping motivation levels at a record-breaking peek and instilling a true sense of belonging to a community of learners.
Keywords: gamification, classroom management, young learners, digital tools, badges, missions, quests
Dr. Mike Kenteris, a passionate educator and Foreign Language School (FLS) owner who tends to blend technology in a traditional classroom setting. Greece.
Saturday 11:15-12:00
Room 607
Hasan Shikoh works as an EAP Tutor & IT Coordinator at the Birmingham International Academy, University of Birmingham, UK.
This presentation will take the approach of observing the observer, and how some observers might be encouraged to be less disparaging, more sensitive towards the observee and accepting of alternative forms of teaching and classroom practice that is equally successful in meeting the set learning outcomes for an observed lesson
Keywords: teachers, observations, observers, managers
Saturday 11:15-12:00
Room 608
Teaching is Art, Motivation is Power
As teachers on a daily basis we deal with numerous pieces of broken "pottery" around us. It's our responsibility to take the broken pieces, put them together and make wonderful pieces of art. In a world full of broken people, teachers are the artists.
Keywords: motivation, young learners, teenagers, emotions, feelings, kintsukoroi, art, scores, power, respect, acceptance, learning differences, goals
Nota Gydakou, English Teacher, (graduate of NKUA), Piraeus, Greece
Saturday 12:15-13:00
6th Auditorium
Viewing Skills: Learning from Museum Educators
Dr. Sylvia Karastathi is a lecturer at the Department of Foreign Languages &Translation at Ionian University / Program Director at New York College
What can language teachers learn from museum educators about activating the creative and generative power of images? This talk will outline principles and practices from museum education that seek to deepen and extend our connection with images, and propose concrete examples on how to cultivate viewing skills in our language classes.
Keywords: viewing skills, visual thinking strategies, multimodal communication, images & videos in ELT
Saturday 12:15-13:00
Room 601
Engaging EFL Students by Varied Approaches to Teaching Grammar
This session offers participants with an overview of varied approaches to grammar instruction that engage students in grammar learning. An understanding of different grammar teaching approaches enables the participants to use materials in ways that fit their instructional preferences and that cater to the learning styles of their students.
Keywords: Adults,grammar
Dr. EL Zamil is an English faculty at the University of Science & Technology of Fujairah, UAE.
Saturday 12:15-13:00
Room 602
One Room, One Game, Infinite Learning Possibilities
George Drivas has been the Director of Studies at Doukas School, Department of Foreign Languages, since 1994.
Ιt is worth considering that according to Chickering & Ehrmann (1996): "Technological resources can ask for different methods of learning through powerful visuals and well-organized print; through direct, vicarious, and virtual experiences; and through tasks requiring analysis, synthesis, and evaluation, with applications to real-life situations. They can encourage self-reflection."
Keywords: escape room, gamification, learning outcomes, hard skills, soft skills, group-based activities
Julia Alivertis & Jeffrey Doonan
Saturday 12:15-13:00
Room 603
Ethics in Education: Teaching for Change. How and Why?
Julia Alivertis, ELT teacher,  teacher educator,  Freelance, Greece
Jeffrey Doonan, University Lecturer.
This interactive workshop is specifically designed for teachers of upper secondary, young adult and adult learners. Re-conceiving the classroom as a community for change, we use a pedagogy of inclusivity and empowerment to address issues affecting youth today. The workshop is inspired by The NO Project free, downloadable teaching resources.
Keywords: teenage leaners, adult learners, ethics in education, human trafficking, modern slavery
Lorena Salud Gadella Kamstra
Saturday 12:15-13:00
Room 607
How can we improve teachers' professional experiences and motivation?
Lorena Gadella Kamstra has delivered TEFL modules to undergraduate students for four years at the University of Essex, England.
We will look at some research conducted in secondary schools in Spain which aimed at identifying solutions to enhance teachers' professional experiences and motivation. Suggestions for improvement will be addressed based on participants' contributions and the researcher's analysis. No prior knowledge needed. Anyone interested is welcome.
Keywords: teachers, motivation, careers, improvements
Nancy Tasiopoulou & Dimitris Primalis
Saturday 14:15-15:00
6th Auditorium
Teaching with Learning Technologies for a decade: Tips & Hints
Nancy Tasiopoulou B.A. (National and Kapodistrian University of Athens) M.A.E. (CSUMB) English Teacher at Doukas School, Athens, Greece
Dimitris Primalis, M.A. in Education, EFL Teacher, Doukas school, Athens, Greece
Web 2.0 tools, devices and platforms come and go but crucial questions remain: How can I exploit learning technologies to boost learning in and outside the classroom? Why do class management issues arise? When should I use LT? How can I integrate it seamlessly? A hands-on workshop for frontline teachers.
Keywords: Learning Technologies, EFL, integration, class management, young learners, teenagers
Saturday 12:15-13:00
Room 601
Storytelling and its Magic in the Language Classroom
Maria Davou, Academic Director, Glossomatheia, QUALIFY, HAEC, Athens, Greece
In this workshop we will explore the power of stories and storytelling for language education. We see how we can tell stories, use stories and help our learners learn through stories.
Keywords: young learners, vocabulary, adults, storytelling
Saturday 14:15-15:00
Room 603
Using Flipped Learning Approach in Teachıng Grammar
Flipped learning moves lectures outside the class so class time is used more effectively as learners have the chance to be involved in more collaborative and productive activities. The presenter will talk about her own experience in teaching grammar by using flipped approach.
Keywords: Flipped learning, grammar teaching, young adults, EFL students
Mrs. Seda Ertum Emirler is currently teaching English in Sabancı University, School of Languages, Istanbul, Turkey.
Saturday 14:15-15:00
Room 606
Around the World with a Chili
Fani Miniadou. EFL teacher Greece (2004) and UK (2014). CELTA and MA in Language, Literature and Digital Media
How many passions can you fit within a course? Literature, CLIL, travels, 21st century skills, human rights, … Oh! For the love of English… It only takes a chili, a story and loads of apps!
Keywords: Young learners, CLIL, ICT
Saturday 14:15-15:00
Room 607
Turning Assessment Into Fun, Formative Activities
This workshop will provide participants with techniques which will help them turn assessment tasks into activities that actually help students develop and grow. The idea is based on the distinction between formative and summative assessment. Examples of various tasks will be provided as illustrations of the many possibilities.
Keywords:Activities, materials design, assessment
Jasmina Sazdovska is a professor at the International Business School in Budapest. She teaches communications, presentations, negotiations and business English.
Saturday 17:30-18:15
6th Auditorium
Things you Need to Know about Ferrari, Blood and Oranges.
Georgios Chatzis, Karayanni Chatzi Schools of English, Corinth. RSA dip, DTEFL, MA ELT University of Essex. Former TESOL Greece Chair.
This presentation is about project work which can give language practice and life lessons to teenagers and involves writing articles, conducting interviews and web design. Inspired by the film Ferrari versus Ford and the story of racing driver John Surtees and the need for blood, organ and bone marrow donation.
Keywords: Young Learners, Projects, Video, Social Issues
Saturday 17:30-18:15
Room 601
Selecting and Adapting Classroom Materials to Foster Acquisition
This presentation will firstly attempt to put forth certain criteria stemming from neurolinguistic studies so as for teachers to choose materials more effectively. It will also suggest some ways of adapting materials so as to fit one's specific teaching context and at the same time foster long-term retention.
Keywords: Materials selection and adaptation, declarative vs procedural knowledge, short-term and long-term memory.
Panagiota Frytzala is an ESP/EAP Tutor at Athens Metropolitan College, a free-lance translator and a teacher trainer in tertiary education.
Chhayankdhar Singh Rathore
Saturday 17:30-18:15
Room 603
Ideas for Scaffolding Learners in Drama-based Language Learning Activities
Chhayankdhar Singh Rathore, Assistant Lecturer, World Language Center, Soka University, Japan
Drama-based language learning activities might come across as intimidating to both the learners as well the teachers. This workshop will provide the participants with a hands-on experience of drama activities that can be used to scaffold the learners and help them prepare for the eventual drama-based activity.
Keywords: Drama-in-education, scaffolding, global education
Dr. Elvira Sanatullova-Allison
Saturday 17:30-18:15
Room 607
English Language Learners and Learning Disabilities: Identification Issues
The presentation addresses the problem of the misidentification of ELLs as Learning Disabled, outlines issues with current methods of differentiating between learning disabilities and second language acquisition processes, and suggests more effective methods that include consideration of the home and learning environments, in addition to evaluation of the individual learner.
Keywords:Second language acquisition, learning disabilities, misidentification
Dr. Elvira Sanatullova-Allison is a Professor of Education at Northern State University in Aberdeen, South Dakota, U.S.A.
Saturday 17:30-18:15
Room 608
Designing Tasks That Meet Your Language Learners' Needs
Heather Woodward, Instructor, Rikkyo University, Tokyo, Japan
In this workshop, attendees reflect on the what, whys, and hows of designing speaking tasks. They also design a task that meets at least one aspect of their language learners' need for using the language.
Keywords: Tasks, task design, speaking, young learners, adults, learners' needs, TBLT, speaking tasks
Dr. Anastasia Georgountzou, Natasha Tsantila & Julie Zourbanou
Saturday 18:30-19:15
6th Auditorium
Raise Learners' Language and Intercultural Awareness through Versatile Teaching Practices
Dr Anastasia Georgountzou teaches at the English Department of the Athens Kapodistrian University and in the M.Ed at the Hellenic Open University.
Julie Zourbanou has been teaching English in private schools since 1990 and is the owner of her own language school since 1995.
In this presentation, we describe two lessons on a culturally focused theme, that of superstitions. The significance of these lessons is that teachers dared modify their hitherto practices and students engaged in follow-up tasks related to communicative strategies, and discussions that promoted critical reflection regarding issues associated with cultural diversity.
Keywords: Teacher versatility, intercultural and language awareness, authenticity.
Dr. Susan Stetson-Tiligadas
Saturday 18:30-19:15
Room 601
Building Reflective Language Learning At All Levels with Bloom's Taxonomy
Dr. Susan Stetson-Tiligadas is the Director of Language and Culture Programs at Deree – The American College of Greece.
Whatever their age or level, our learners can benefit from building versatile metacognitive skills to help them learn how to learn, in English class and beyond. This presentation will feature ways to pair reflection with the hierarchy of Bloom's Taxonomy to apply to a range of levels and activities.
Keywords: Metacognition, Bloom's taxonomy, study skills, language skills
Saturday 18:30-19:15
Room 603
EAP Class and the Global Citizen
The aim of this presentation is to show how tasks implemented in the English for Academic (EAP) classroom can help students become global citizens, prepared to live in globalized, diverse communities. The concept of the global citizenship education and the challenges for tutors will also be discussed.
Keywords: English for Academic Purposes, EAP, global citizens
Georgia Nikoleta Trimi, English for Academic Purposes , University of Nottingham, UK & BCA college Athens, Greece
Saturday 18:30-19:15
Room 606
Customized Approach to Studying: Finding Out Students' Real Goals
Anna Zhyliakova, Freelance teacher of English, Dnipro, Ukraine
The information given will cover the issues of dealing with students' needs, finding out their strengths and weaknesses, their interests and tailoring the learning process to them
Keywords: Personal approach, learning strategy, exam preparation, testing, reflection
Saturday 18:30-19:15
Room 607
The Power of Laughter Yoga in the Classroom
Laughter Yoga is the most powerful tool that I have in the classroom. Without this, the other instruments, dancing, singing, playing etc are less successful. I will show you how and why I use it and you will feel the benefits on yourself first and foremost.
Keywords: Laughter, Team Building, Creativity, Subconscious learning, Movement, Motivation, Group Dynamics
Danny Singh, Creative Teacher, Teacher-Trainer, Writer, Motivator, Laughter Therapist, Rome, UK/Italy
Sunday 11:15-12:00
6th Auditorium
Developing EFL Reading Comprehension Competence to Students with ADHD
Dr Jenny Liontou, Assistant Professor, Department of English Language and Linguistics, National and Kapodistrian University of Athens, Greece
This paper reports on a one-year study that aimed at investigating the development of young ADHD learners' reading competence within a Technology-Enhanced Learning Environment. The paper includes a detailed description of a range of computer-based reading comprehension activities and their impact on enhancing reading comprehension competence to young ADHD learners.
Keywords: Young EFL learners, learning differences, technology-enhanced learning, reading comprehension competence
Theodora Paraskeva & Melpomeni Ilkos
Sunday 11:15-12:00
Room 601
The Textbook is not the Bible: Teaching beyond the Textbook
Theodora Paraskeva, English Language Teacher and Language School Owner. She teaches mainly young and teen-aged learners of all levels.
Melpómeni Ilkos, English & Modern Languages Department Head, DEREE – The American College of Greece. She teaches Linguistics and Academic Writing
Have you ever wondered why students are fidgety, or not paying attention in class? Teachers often feel the need to "march through" the exercises in the textbook which can lead to their disinterest. So, should we dispense with the textbook entirely? No, but do not use it as a bible.
Keywords: Young learners/adults
Lia Kalianos specializes in adult education and training. She is the ESP Trainer at The American College of Greece.
Cliff Parry (MSc TEYL, RSA DTEFLA, BSc, Dip. Management), Academic Manager at the British Council. Athens. Greece
Lia Kalianos & Cliff Parry
Sunday 11:15-12:00
Room 602
The Versatile Trainer: Adding Value to Business English Training
Business English training is about helping Learners to communicate more effectively at work. In our sessions, we can add value for our business English Learners and their employers. This presentation will explore the concept of 'value' and approaches to versatile business English training that go beyond approaches and methodologies.
Keywords: Business English, adults, soft skills, English for Specific Purposes
Valia Gkotsi & Ioanna Georgakopoulou
Sunday 11:15-12:00
Room 603
Valia Gkotsi, MA, BA, Cert., Drama and Theatre Pedagogue/ IB English Teacher and Examiner, HAEF – Athens College, Athens, Greece.
Ioanna Georgakopoulou, MA, BA, Drama and Theatre Pedagogue/ Head of Academic Learning Centre, AMC College, Piraeus, Greece
Teacher's determination and tenacity have always been moving forces in our profession. Before a challenging era, teachers try constantly to evolve and stay true to their mission. In this practical workshop we will explore together how teachers from the past can act as inspiration and motivate us to move forward!
Keywords: Drama, teachers, ethics
Sunday 11:15-12:00
Room 606
Poetry with Early Years – Exploring Poetry with 4 to 5 year-olds
Petra Tseliou specializes in Early Years at I. M. Panagiotopoulos & is an Associate British Council Teacher
Poetry can be a fun way of exploring language and helps build children's imagination. This workshop seeks to demonstrate a playful setting where Early Years can develop Literacy skills and grow awareness of the world around them.
Keywords: Early years, language, Literacy, vocabulary, poetry, rythme, chants, Imagination, play, child identity, social awareness, understanding the world
Saturday 18:30-19:15
Room 607
Are you looking to challenge your students to think outside the box? This presentation ideas aim to encourage our students to use their imagination, intelligence, and creativity, to learn English.
Keywords:Young learners, out of the box activities, creativity, imagination, inspiration, meaningful teaching
I am a passionate English teacher, TESOLer and life lover, currently teaching in a State Primary School in central Greece
Sunday 12:15-13:00
Room 601
The importance of PR in English Language Teaching (and Learning)
Bobby Zlatkov, teacher and teacher trainer, freelancer/British Council Bulgaria
The session will look at the role of patience (P) and respect (R) in ELT. It will also explore ways in which these can be exploited by educators to both their and students' benefit.
Keywords: Respect; patience; encouragement; praise, humane teaching; motivating learners; class morale
Dr. Jane Mandalios & Christina Konstantakelis
Sunday 12:15-13:00
Room 602
Translanguaging: Some Learner Perspectives from Greece
Dr Jane Mandalios, Assistant Professor, American College of Greece – DEREE, Athens, Greece.
Christina Konstantakelis  is a TESOL graduate student at Deree. EFL teacher and an oral examiner. Member of TESOL Greece. Athens, Greece
"I can concentrate on discussing the real matter of the topic without being limited by language barriers". This session profiles research into Greek university students' translanguaging practices, reappraising the monolingual orthodoxy, and investigating how translanguaging empowers learners and exploits their linguistic versatility. Discussion on translanguaging challenges and opportunities is invited.
Keywords: Translanguaging, use of L1
Sunday 12:15-13:00
Room 603
Versatility in Discipline Issues
Zafi Mandali, BA & MA holder, Director of the Department of English of Ellinogermaniki Agogi, teacher, presenter, author, article writer and storyteller.
Misbehavior in class is part and parcel of the teaching job. The presentation will focus on interpretation of disruptive behavior, on when and how limits are drawn and on which effective reinforcement strategies to be used to unlock student motivation. Redesigned behavioral management will de-escalate problematic behavior and allow class control
Keywords: Learners, all ages, patterns, difficulties, behaviour
Sunday 12:15-13:00
Room 606
Student or Teacher? Who is the Weakest Link?
'Weak' is the most common adjective used to describe under-performing students. One of the greatest challenges for teachers struggling with this issue is balancing the needs of different students and choosing not to underestimate the potential of any learner. Is it possible to teach high? Can weaker students excel too?
Keywords: Weak students, support, guidance, young learners, teenagers, primary & secondary learners, exam classes
Katerina Mantadaki is a Teacher & Teacher Trainer, specialising in Teaching English to students with Dyslexia and other SEN.
Lilian Stathi is an EFL/EAL teacher, MA TESOL (Dyslexia), British Council & St Catherine's British School, Athens, Greece
Sarah Smith, CELTA and TYLEC trainer at British Council, and taught EFL/ESL in Senegal, Japan, Ecuador, Turkey, Thailand, France and Greece.
Lilian Stathi & Sarah Smith
Sunday 12:15-13:00
Room 607
Overcoming the B2 Vocabulary Plateau
Most students – and their teachers – have experienced frustration over the fact that despite their best efforts, there is little perceptible progress in vocabulary learning, especially during the transition from B2 to C2. What can we do to overcome this language learning plateau and enhance usage of more sophisticated vocabulary?
Keywords: Vocabulary, plateau, classroom activities
Sunday 12:15-13:00
Room 608
Identifying Sources of Happiness: Introducing Positive Psychology in EFL Classes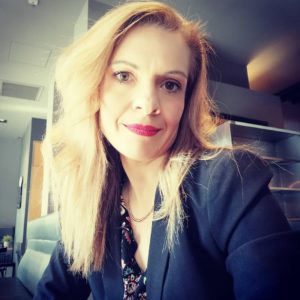 Students' mental well – being is of paramount importance; nonetheless, for years EFL education has mainly focused on academic skills. Following the concept of positive psychology, this presentation attempts to show how we can help our students become more aware of what makes them happy, develop empathy and stronger personal relationships.
Keywords: Teenagers, young learners, positive psychology, happiness.
Vasiliki Lismani, EFL teacher. Bed., MA in Special Learning Differences and Inclusive Education, Hellenic American University, Piraeus, Greece
Sunday 16:45-17:30
Room 601
Teaching Beyond the Word…
Danae Patsaoura,(BA,CELTA,MA,CertTESOL Trainer) Danae is a teacher and teacher trainer specialising in second/foreign language acquisition.
Francesca Xenaki (BA,CELTA,MA,CertTESOL Trainer)
Lexical acquisition is a fundamental, yet intricate matter. Inspired by the Dutch educational system and the communicative approaches used in the Netherlands, our talk proposes innovative ways of teaching lexical items. Vocabulary development is not about memorising word-lists but about understanding and expressing how we conceive the world around us.
Keywords: Vocabulary, vocabulary learning, lexical acquisition, development, cognates, L1 reliance
Gkotsi Konstantina, Teacher of English, Primary School, Doukas School, Athens, Greece
Dimitra Stamatopoulou EFL teacher at Doukas School
Konstantina Gkotsi & Dimitra Stamatopoulou
Sunday 16:45-17:30
Room 603
Literature for Young Learners in Action!
Feeling overwhelmed with teaching English through mundane tasks and activities? Do you like Literature and you want to follow a CLIL approach in yourclasses? This workshop offers you suggestions on how to implement this programme into your curriculum in an amusing way.
Keywords: CLIL, Literature, Young Learners
Sunday 16:45-17:30
Room 606
Teaching other Subjects in English: Benefits and Limitations
The purpose of this presentation is to discuss the benefits and limitations of teaching other subjects in English for both students and teachers. Considering our students citizens of the world, exposing them to "real contexts" is the path to bilingualism and the key for a successful academic future.
Keywords: English, other subjects, benefits, limitations, examples, Literature, Maths, Science, Geography, Music, high achievers, learning difficulties
Vasiliki Giannopoulou, English Teacher, Nea Genia Ziridis, Athens, Greece
Valia Georgilaki Sandy Kladaki-Gerani Mary Gerondi
Sunday 16:45-17:30
Room 607
Who Says Managing a Pre-School Class Is a Mission Impossible?
Valia Georgilaki (M.Ed. in TESOL) is an EFL teacher at Doukas school, Athens
Sandy Geranis is an EFL teacher at Doukas school, Athens
Mary Gerondi (ELT teacher) works at Doukas school, Athens.
Looking to manage a pre-school class? Do you feel that you are losing control and the little ones are taking over? Teaching English to preschoolers may sound hard but who says it's impossible? This workshop can offer you suggestions on how to handle your young students and enjoy your lesson.
Keywords: Pre-school learning environment, pre-school classroom management, pre-school interventions, pre-school behavior management, behavior modification, classroom dynamics, classroom environment, classroom techniques, discipline problems